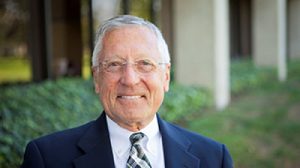 Burrel Magnusson | Chairman Emeritus
Burrel Magnusson was Chairman of Essex and provided strategic input and direction for the company. His enthusiasm for life and the real estate industry was infectious to Essex employees and all others with whom he met. Mr. Magnusson was actively engaged in the development and management of investment-oriented properties in the United States since 1971. His background included experience in feasibility analysis, property acquisition, development, capital funding, marketing and asset management. Through the years, Mr. Magnusson, developed office buildings, industrial parks, and retail centers representing a total value in excess of a billion dollars and several million square feet of space with an emphasis on high quality projects. Several of these projects were honored with design awards from the Pacific Coast Builder's Conference.
On various occasions, Mr. Magnusson served as a guest speaker and panelist for such organizations as the American Institute of Architects and the National Association of Industrial and Office Parks, lending his comments and expertise on various aspects of the development process and trends within the industry.
Mr. Magnusson received his professional degree in Business Administration from the California State University at Long Beach. He is a licensed California Real Estate Broker in California.